Collaborating to Provide Unparalleled Access to Scholarship
Collaborating to Provide Unparalleled Access to Scholarship
NTK and campus partners join forces in offering world-class information services to professors and students.
Information support center for science, research and education
PRAGUE—While elsewhere reducing expenditures and streamlining are theoretically debated, here in the heart of the Dejvicka engineering campus, the National Library of Technology (NTK) is actively working to integrate the Czech Republic's largest collection of technology and applied natural and social science materials with those of partners – including the largest Czech chemical university (Institute of Chemical Technology, Prague [ICT Prague]), the most successful Czech research institute (Institute of Organic Chemistry and Biology [IOCB]) and the oldest and largest Czech life sciences university (Czech University of Life Sciences [CULS Prague]).

Together, these institutions are creating a united information support center for science, research and education, says Martin Svoboda, NTK's Director. On our own, without the overhead of a costly European project, we're working together to find rational and effective solutions, potentially saving millions by jointly examining technology, space, staff, and the purchase of information resources.

Discussions about integrating NTK with other institutions began already in the mid-2000s, when plans were still on the table for moving NTK to its current location. The original vision called for NTK's union with the Czech Technical University (CTU) library in addition to ICT. Last year's signing of cooperation agreements with ICT, CULS, and IOCB marked the beginning of the new era for NTK—returning it to its pre-World War Two position as a partner in the academic and research endeavors of its campus partners.

We're connecting and sharing services that all participating institutions can effectively utilize together. Our building, which opening in 2009, was designed and built with flexibility in mind—allowing it to develop with the varying space, personnel and technology needs of the surrounding campus, said Svoboda. Our goal is to leverage, to synergize our joint activities in order significantly improve the quality of current information services while systematically introducing new and innovative services to professors, researchers, students, and other members of our community.

The cooperation with NTK is allowing us to streamline and improve our library services as well as acquisitions and management of electronic and print resources. Students, teachers and other ICT staff consider NTK a natural part of our institution, said ICT Rector, Prof. Ing. Karel Melzoch, PhD.

The recent collaborations are only the first steps in a much more ambitious plan, according to Svoboda:
There is a clearly articulated demand, particularly from the Czech Council for R&D, the Czech Academy of Sciences and other research institutions, to work together in developing a comprehensive national information infrastructure for research and development, education, and public information services—including possible creation of a national consortium for purchasing electronic resources (NTK is leading a pilot project on this topic through 2017). Such a national consortium would also provide leadership in areas such as open access to publication outputs (OA) and the evaluation of research quality and impact.
Contact
Stephanie Krueger
‌ stephanie.krueger@techlib.cz
‌ (+420) 232 002 545
See also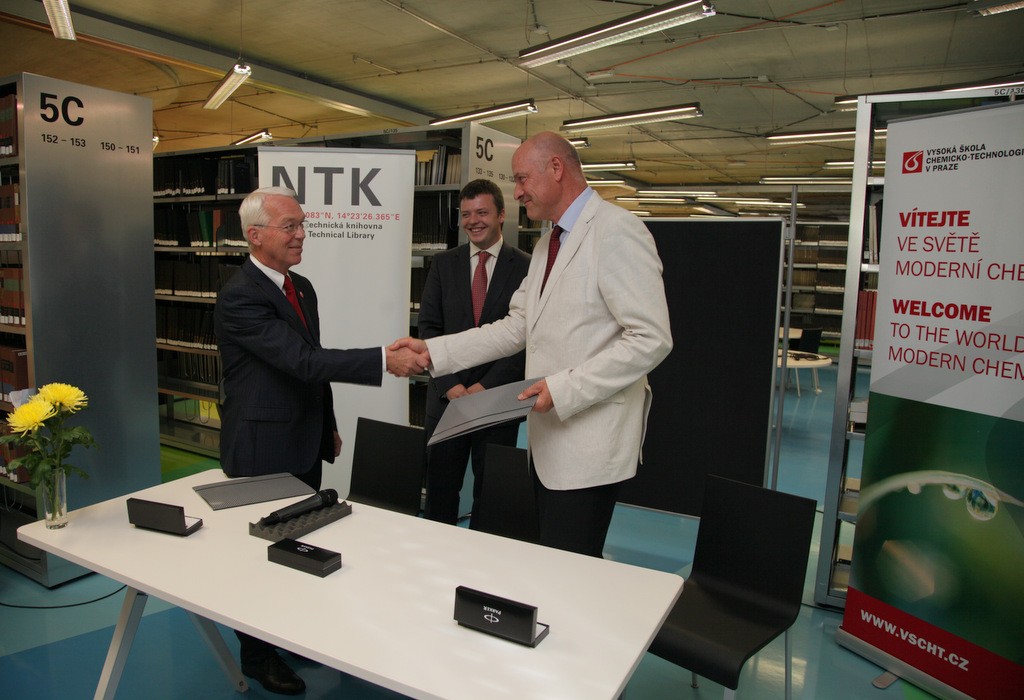 Photo: Signing the cooperation agreement: Tomáš Hrudy (Ministry of Education), Martin Svoboda (Director, NTK) and Karel Melzoch (Rector, ICT). Photo: Ladislav Hovorka, ICT.